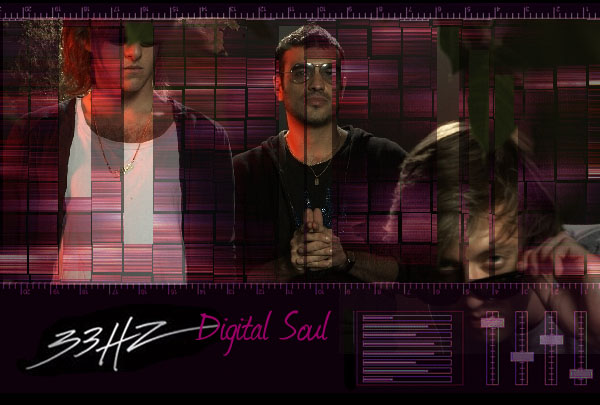 It's a scene that appears in nearly every movie featuring a record store. You know, the one where an employee puts on some music, thereby causing a spontaneous dance party to break loose. I know it happened in Pretty In Pink. Pretty sure it happens somewhere in Empire Records too. Regardless, as a former record store employee of many a year, I saw this phenomenon occur in real life exactly one time. Several guys by the budget CD rack absolutely breaking it down to what was blasting out of the store speakers. The track that caused the impromptu dance epidemic? 33Hz's "Chemical Reaction." This was when I knew this band had something.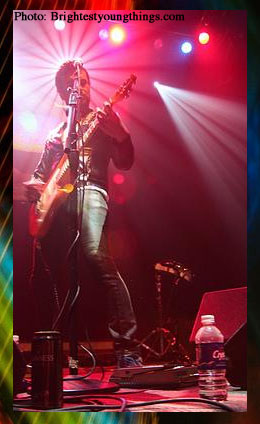 33Hz dropped their first slice of electro-fried soul back in 2005 with the release of their self-titled album. All sultry sexx jamz and sleek electronics, it was as if someone melded Neptunes-style production with Prince circa "I Wanna Be Your Lover."

And it came from a crew of white boys well versed in the New York hip hop realm, having gotten their start providing instrumental backing for freestylers. Says singer Benny Lowe, "Before we were 33Hz, members of the band would jam with rappers from the south Bronx at a spot called Baby Jupiter. One crew was super friendly and had these big brunches on Sunday with fresh fruit and coffee and pancakes...then we found out they were murderers."

Deciding that they might do best to focus on killer tracks, 33Hz devoted their energy to creating their own R&B centered sound, though their hip hop roots still show, if you know where to look. They note that, "Being from New York, there will always be a hip hop element to what we do, but in terms of working with rappers, we keep that limited to side projects."

One of which was last year's "Paris, Texas," a track featuring Teki Latex and Devin the Dude (the latter of which you might know from a little album by Dr. Dre called Chronic 2001). Releasing a 10-track disc of remixes of one song might seem an unusual route for a follow-up, but the guys felt the tracks were just too strong not to put them out there, explaining that, "All of our producer friends wanted to remix [Paris, Texas], and we liked the results so much we decided to share it with the world."

Remixes are something the trio knows a thing or two about, as their skills have become rather in demand, as of late. Recently, they've cranked out their own take on Parisian trio The Teenagers' "Love No," as well as reworked Japanese pop stars Riddim Saunter.

"Our music has started to get some traction over in Japan, so it was natural that some of their artists would start seeking out remixes," says Lowe of 33Hz's international appeal. "Europe is great because it's so condensed. We probably have more American fans, but our fine country is so spread out it's easier to hit cities like London and Paris and reach large proportions of those cute little nations."

With all these outside projects, the band's time has been spread a bit thin, but those jonesing for another jolt of digital soul need not fear, as the guys, who are currently back in the studio, say that "We'll always be an R&B band first and foremost." A trailer that made the rounds on YouTube last year offered a taste of the new tracks, but 33Hz promises that the finished product will be "bigger and better. We've got a single coming out on Foolhouse Records, the label for the French blog Fluokids. 'Sentinel of Love' and 'I Feel Alive' will be on that release with remixes by super hot French producers. Foolhouse release dropping in September, so watch for it."


Got something to say about this feature? Post it on RSJ's blog, Blendetta.com!