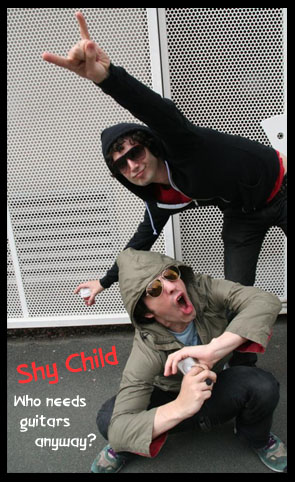 It's become a common story: indie band goes relatively unnoticed in the US, so they head to the UK where they gain 'can't walk down the street unnoticed' popularity. See recent examples: The Hold Steady, We Are Scientists, The Gossip...the list goes on. With the current British focus on synthy dance bands, it was just a matter of time before US versions started making the trip across the pond.

Which is where New York-based keytar 'n drums outfit Shy Child comes in. In the States, the duo consisting of Nate Smith and Pete Cafarella are probably best known for their time in DC dance punk band Supersystem. Overseas however, Shy Child has been wowing the festivals and earning such coveted spots as opening duties for Muse's Wembley Stadium dates. But with the US release of Noise Won't Stop scheduled for May 5, they hope to shoot a synth-fueled injection direct to the heart of the American music scene.
Rock Star Journalism: When asked about influences, you usually mention bands like Kraftwerk. Were these the bands that first made you want to make music? What was the first band you saw that made you think, "Hey, I'd like to do that"?

Nate Smith: Honestly, we've been playing in bands for so long that there's not one band that we can pinpoint as the one that made us want to be musicians. It's in our blood ya know?

RSJ: You guys lived in the DC area for awhile; obviously you're aware of the large DC punk scene. Do you think you took anything from being around that scene that is still relevant to your current band?

NS: There's definitely a lot of good things to be taken from the DC scene. The camaraderie between bands, being good to your fans, the independent spirit, the importance of a good live show - these are all positive things that the DC scene is/was about. There's a lot about the culture of being in a band in 2008 that's different from those glory days though.

RSJ: When Supersystem disbanded, did the two of you know immediately that you would focus completely on Shy Child? Was this something you had considered giving more attention to in the past?

NS: Shy Child's existed since 2000, and we never really thought of it as a side project, but a few years ago we started to get opportunities that we hadn't gotten before. It was just a coincidence that it happened as Supersystem was winding down, but it gave us a lot more freedom in terms of scheduling.

RSJ: Like a number of synth-oriented US bands, you've had a lot of success in the UK. Why do you think this scene has been so friendly to you?

NS: It's hard to say. Right place at the right time? There's definitely something about a band that substitutes synth for guitar that still doesn't fly as well in the US as it does in the UK and Europe. Maybe it has something to do with how popular electronic and dance music was in the UK in the 90s, when it never really took off in the States. We're betting that the US catches up quick though.

RSJ: Though I'm sure there were many, please tell me one good story from the Klaxons tour.

NS: On a few of the shows on the Klaxons tour, Chrome Hoof opened the show - they're really great and you should definitely see them live. They all wore robes on stage, and at one show Klaxons donned robes and went out to dance on stage with Chrome Hoof. When they left the stage though, one of Klaxons' tech crew put one of their robes on, put the hood up, and went out and danced like crazy for a song, with a cup of coffee in his hand the whole time. I don't think anyone in the audience knew he wasn't supposed to be there, and we were cracking up on the side of the stage.

RSJ: Your thoughts on the "new rave" tag that was attached to Klaxons-style electro - media hype or actual phenomenon?

NS: Media hype. Klaxons make really good pop music. New Rave will be remembered more as a teen fashion trend than a musical phenomenon. I'm surprised that people still talk about it.

RSJ: Did you find it at all overwhelming to play the huge festivals in the UK? Did you change anything about the way you perform, when in front of such a large crowd?

NS: It was hard at first because we draw so much of our energy from the crowd, and when the crowd is close that's a lot easier. But we pretty much do our thing whether it's for 30 people or 3000 people, and if the crowd gets it, the energy flows. At Wireless festival in London, even though there were thousands of people, they were all really into it, and it didn't feel that different than playing to a small club.

RSJ: Having done lots of remixes for other artists, what do you think are the elements of a good remix? Have you ever remixed a song that you did not like the original version of?

NS: We've definitely remixed songs that we haven't liked, and it makes it harder. But we look at it as a challenge -- how do we make this sound dope? Remixes come in all shapes and forms, but for our tastes we like them to either be super banging or super innovative. Metronomy has made some of our favorite remixes for other people. Buraka Som Sistema has made our favorite Shy Child remix. We did our favorite remixes for Dead Kids and Tokyo Police Club (even though TPC didn't like it).

RSJ: In a previous interview, Pete mentioned that he listens to individual tracks more so than entire albums from an artist. Which track off of Noise Won't Stop would you most want someone to hear if they could only hear one song from the album?

NS: Probably "The Volume" or "Astronaut."

Got something to say about this feature? Post it on RSJ's blog, Blendetta.com!