If one thing has been constant in the 24-year history of KMFDM, it is the band's penchant for change. Whether it's the sound of the music or the line-up of the band, KMFDM has never been willing to remain stagnant.

Recently, band founder Sascha K and vocalist Lucia Cifarelli made a monumental change of the non-musical variety, as they moved from their longtime home in Seattle, Washington to Hamburg, Germany. Currently in the process of settling into their new home and with a remix album on the horizon, the duo took time out to speak with RSJ about their new beginning in 2008.
Rock Star Journalism: Having lived in the US for so many years, does it feel at all strange to be back in Germany, or do you feel that you are back home?

Sascha K: It does not feel like home at all; it's pretty strange, but it's very interesting. There's a lot of up and down sides to it, but it's definitely interesting to see how it has changed.

RSJ: Lucia, how has this experience been for you, as someone who had not previously lived overseas for a significant period of time?

Lucia Cifarelli: It hasn't really settled in yet; we've been so busy. It still doesn't feel real. I think now that the new year is here, it'll start to sink in. I'll have a better idea how I feel about it in another couple months.

RSJ: Were you at all apprehensive about making such a big change?

LC: No, not really. You don't get that many opportunities in life to take such a leap of faith and try things that are crazy. We moved across the world. If it turns out it's not for the best we can always move back, but we're going to give it a shot. It's a very exciting time.

RSJ: What was the key reason for moving at this time?

SK: I've been thinking about it for a couple years, but it was always tour, record, tour, record -- same old cycle. This time we decided to work with a management company out of Los Angeles, and we had a pretty big thing going for a tour, but then they fucked it all up. It just didn't come together, so we said, fine let's just fuck off and do what we've been talking about for so long -- let's just move.

RSJ: What do you believe is the aspect of German society that is most different from American culture?

SK: Where to begin? First of all, this place is not service oriented at all. You go to a shop and they're like, "Eh, what do you want?" There's no sense of, "Hi, how are you? What can I get for you?" That mentality does not exist here. To be honest, we have not had too much time to explore beyond getting the basics. We were without our stuff for quite some time, and it was just in the second week of December that we saw our things again. But now the studio is up and running and the holidays are over, so now we can really start.

RSJ: Do you think the change in environment will affect the music that you make?

SK: I don't know. I've moved from city to city in the United States, and it hasn't really done too much to the general style. I think for me what is important is not so much where I am but how I am there. I found that when I was living in New York City it was very hard for me to find the time to focus on music. When I have to forage for daily sustenance and run about all the time, that's not really good for me in a creative sense.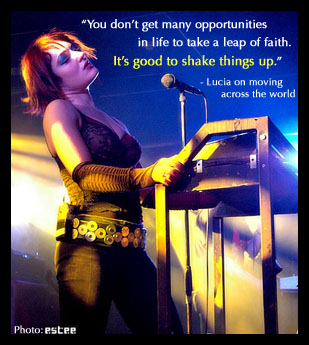 RSJ: Lucia, I know that you've always been unhappy with the lack of opportunities you've found in the US as a solo singer. Do you think that this is something that may change for you in Europe?

LC: I don't know. I didn't consciously think of that when I imagined living in Europe. I just thought of a change of scenery, new experiences. It's always good to shake things up. You never know how that's going to affect your work or propel new opportunities.

RSJ: Do you think female artists are viewed differently overseas?

LC: I'm flipping around the channels and watching things that are going on here, and it seems very different. It doesn't seem so specific. There seems to be a great amount of diversity here, so in that respect, I think that's a really great thing that can only be good for female artists. I certainly don't think we're going to be any worse off for being here, that's for sure.

You know, we can make music anywhere. As long as we have a studio, it doesn't matter where we live. We're still going to release music in the US; we're still going to release music in Europe. Living here will give me the opportunity to work with some different people that I haven't had an opportunity to work with, just by nature of being closer. So, I'm excited.

RSJ: Sascha, in a recent interview you mentioned that you felt KMFDM had accomplished everything it could in the US. Do you have new goals for the band in Europe?

SK: I feel like KMFDM has reached a certain feeling in the US that we can't seem to top. Our tours are always the usual culprits lumped together, and we're having fun doing our thing, but it's really impossible to break through this ceiling. We've been trying to get onto tours with artists like nine inch nails and whatnot, and all I can say is these people are afraid of a band that means what it says and fucking rocks and might steal their show.

Basically, in the sense of the US audience, there is no way out. Ministry, Skinny Puppy and KMFDM - the three big names in industrial rock, we're very married to the genre. Whereas in Europe I think there might still be territories to conquer. There's the whole opening of the East now; just a couple of weeks ago borders fell between plenty of Baltic States, Poland, and the rest of the West. The situation is getting bigger and bigger; this is becoming the next United States. I think there is definitely some work for us to be done here.

RSJ: You will be releasing KMFDM's first full-length remix disc, Brimborium, on February 19. Was the decision to do this based at all on positive reactions to the remixes on Ruck Zuck?

SK: It was a mix between the positive reaction to those and the positive reaction of many of our peers to Tohuvabohu. Surprisingly, a lot of friends' bands called up and said they'd like to do remixes of our songs. So, before we knew it, we had more on our hands than just a regular EP.

RSJ: Were all the remixes done by people who asked to do them, or did you seek out any remixers on your own?

SK: I didn't really go out and get any people; it all sort of fell together. There was Die Krupps - [vocalist] Jürgen Engler, who I've been friends with for a long time, contacted me a few months ago to do a remix for one of his upcoming things. So, I asked him to do one for me. On a personal level, it's definitely one of my favorites.

RSJ: Lucia, do have any interest in doing remixes yourself, since several other KMFDM members contributed tracks to this album?

LC: Not really. I consider myself a singer and a writer. I've been studying piano now since last March, and learning an instrument has been very exciting for me. I'm very opinionated when it comes to the remixes and will always put in my two cents. But I start to go catatonic when I stare at a computer screen for more than three hours at a time, and if you're going to do that kind of work, it's a requirement.

RSJ: Did you find that any of the remixers interpreted a song in a way that you would never have thought of?

SK: Steve White. He definitely took the cake, in my opinion. What he did with "I Am What I Am" is just unbelievable. Basically, [the remixers from KMFDM] did full on reinterpretations of the material; whereas, the outside remixers did more of the classic remix approach. We've been working on the stuff for eight months, so it was definitely refreshing to do a completely new take on the songs. And, of course, [we also made] the bonus track with stuff from the KMFDM fan phone.

RSJ: How did you come up with the idea for the fan phone in the first place?

SK: At some point I was thinking, wouldn't it be fun to incorporate genuine statements from KMFDM's fans onto the records? So, we set up a toll free number in such a way that messages were automatically sent to us via mp3. And as they came in I was scanning them and snipping out the stuff that I thought fit the song.

RSJ: Were you surprised by any of the messages fans left for you?

SK: I was surprised by the amount of lewd messages that were left among the 400 or 500 total. There were a lot of girls who had a lot of below the belt things to say (laughs).

RSJ: According to the Metropolis website, Brimborium means "something with no meaning or value." Is this an accurate translation?

SK: The Brimborium was a prayer that was held in Latin, and it was mumbled to the extent that as it spread throughout the centuries, none of the monks knew what exactly was said in the end. It is generally interpreted as something that is superfluous -- something that is existing, but of no real significance. Meaning [as it relates to the album], that it is not a work by the band, necessarily, but a bonus. It's a fun take; it's extraneous good stuff.

RSJ: Lucia, you mentioned briefly that you're learning piano; are you writing new solo material?

LC: I've had this crazy idea since last year that I want to make another solo album. The KGC album -- initially, I thought that was going to be a solo album, but by nature of collaborating with Dean [Garcia] and Sascha, it just worked its way into being a project. Which was fine; I love it, and I'm glad we were able to do a project together. That being said, it's really important to me to do another solo record, but how I do it is the question.

Usually when I write, people give me tracks, and I weave a melody through it, write a lyric and go into the studio. But it's really hard to find collaborators that you have a connection with and whose tracks you can fall in love with. I just decided last year that it really is time for me to step up my game as far as my writing goes, and that means not being fully reliant on other people to come up with the tracks. I really don't need anybody else to write a song, so I started taking piano lessons. I'm not going to put any pressure on myself as far as a timeline, but I'm going to make a huge commitment to working on writing songs for myself and see where it takes me.

RSJ: Many fans were disappointed that you did not tour for the last album, as you have for the past few. Did you miss being on the road and performing these songs live?

LC: Oh, yeah. It's a very strange feeling to not be out there this time around. We'd become conditioned to finishing up a record towards the end of the summer, having a release in September and taking off for the road on top of the release. We look forward to that -- you feel such a great sense of accomplishment when you can follow one aspect of the process with the other. With this album, we didn't go out to support it, and there were a lot of reasons behind that. But I think it was a good thing. I think we've gone out a lot and much as we wanted to be out there, it just felt like it was time to take a break.

SK: We've been touring nonstop. We've done '02 through '06, not only the US, but Europe, Canada, and Australia. There's a point of diminishing returns. If you dilute your presence in a certain way, it becomes a situation where people say, "It's KMFDM -- if I can't make it, I'll just see them next year." So, it's a bit of a wake up call saying, don't take it for granted.

RSJ: Are you thinking at all about when there might be another tour?

SK: Well, just about a year from now is the 25th anniversary of KMFDM. I think that would be a really nice point of return. For the time being, there's some plans lined up for some European activity towards late summer and fall.

RSJ: I heard that there was the possibility of another Excessive Force album, but then I read that those plans had been scrapped. Do you think there will ever been anything new from that project, even if it's not in the immediate future?

SK: No. After we put together the re-releases for that, it was pretty apparent that there is no way to tap into that kind of stuff. That's a bygone era. Plus, there's a project in Canada that is some sort of white supremacist kind of thing, and they're using the name Excessive Force. I would hate to have any kind of association with that.

RSJ: What goals do you have for yourself in 2008?

SK: I hope that by the end of the year I feel very comfortable in Europe. I'm liking it so far, but it's still a little tricky.

LC: I'm hoping to become fluent in German. That's a huge priority.

RSJ: Do you have any musical goals that you'd like to accomplish this year?

LC: I definitely want to continue working with KMFDM. I'm hoping to have at least half an album written for a new solo album. I think if I can accomplish those few things I'll be happy with this year.

SK: I want to get started on a KMFDM 25th anniversary album. There's a lot of stuff that's going to come out in terms of back catalogue this year. So, we're working pretty hard on that. There's limited vinyl editions coming out very soon and probably a best of. I'm also working on some sort of remix thing of KMFDM's greatest hits, basically doing contemporary remixes of the good oldies. Lots of stuff!