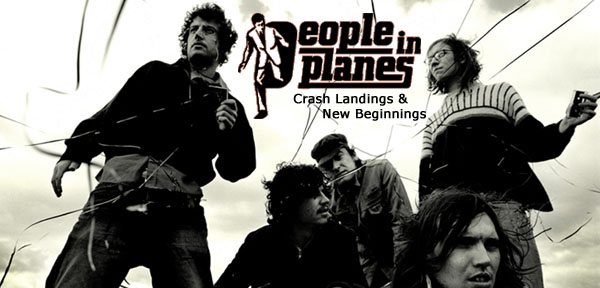 These days, it seems like quite a few bands can't seem to stay together for the duration of their first tour. Egos get in the way, the road takes its toll, the slightest whiff of success and somebody's running off to pursue their own solo project. Which makes People in Planes something of an exception. Having already been through two previous incarnations -- the band started as Robots in the Sky, then was signed to EMI as Tetra Splendour -- they've made it further than many by simply hanging in there.

And they've shown quite the knack for survival, as being dropped by their label led them only to re-emerge with their most successful project to date. As People in Planes, the Welsh foursome -- now made five with the addition of keyboardist Ian Russell -- has both tightened their sound and expanded it, drawing influences from Supergrass to Radiohead. Guitarist Pete Roberts reflects on People in Planes sudden launch.
Rock Star Journalism: You've been together as various bands with relatively the same line-up for years. Why do you think you are able to work so well together?

Pete Roberts: I've known Gareth since I was very young, and he introduced me to John and Kris, who were in the original line-up for all those years. As soon as we got signed, we moved into a place together, and we just gelled really easily. It's kind of a strange thing, really. I think when you're very young, you don't really tell people about your problems; you kind of bottle them up. In some ways that's bad, but in other ways, you don't vent your frustrations out on other people, so you get over things without having to fall out with them.

RSJ: Why did you decide to bring in a keyboard player, as opposed to having Gareth remain on keyboards?

PR: It was basically the influence of Sam Williams, who produced this record. When we went through that experience of getting dropped [by EMI], which was the main motivation behind this whole second record as People in Planes, we did a demo. We thought, almost as a joke, we'd send it out to Sam Williams because he's a big producer -- he produced [Supergrass'] "I Should Coco," worked with some big bands -- he probably doesn't want to work with us, you know?

But it turned out that he really warmed to our demo immediately. When he decided to work with us, he suggested that we should get a fifth member and let Gareth be more of a frontman. It's a case of doing anything to help find an audience at this early stage. Once we've achieved our audience, maybe on our third record, then Gareth can get behind keyboards again where he feels most at home. We'll probably have multiple keyboards going on, which should be cool.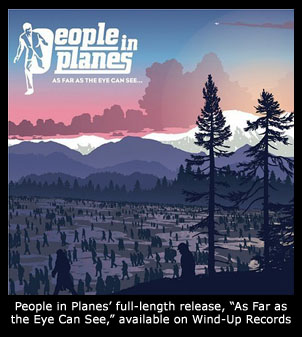 RSJ: Having already been through the experience of touring and recording as Tetra Splendour, what is the most important lesson you've been able to take from that and apply to your current work?

PR: Don't really trust anyone unless they love you because of your music. You come into contact with so many different people in this industry, and some people promise you things, and some people tell you that they love your music before anything else, and those are the people you should really work with and have around you. We toured for a long time in the UK, and I don't think there is one rule as to how you go about being successful. And it's kind of sad to say that you have to do that, to be successful, but if you want to keep on playing music for the rest of your life, then, unfortunately, that's one thing you have to try and do.

RSJ: Of the tours you've been on thus far, what has been your favorite experience?

PR: Swimming in the Gulf of Mexico was pretty amazing.

RSJ: Have you had any particularly difficult tours?

PR: Every band we've toured with has been cool. I have yet to meet a band in that environment who hasn't been really appreciative of the situation we're in. We spent most of our year with Blue October, and they were absolutely lovely guys, made our year very enjoyable.

RSJ: How was the experience of playing South by Southwest?

PR: It's kind of weird. South By Southwest is an amazing thing for a minority of bands who have some sort of a buzz going. And we've experienced both ends of the spectrum. The first time we came from Wales to do this show and were like a million bands who had no buzz or anticipation -- no one was gonna come and watch us. There's so many bands that probably save up half the year to afford the travel to get to South by Southwest, and then it turns out that there's only like 10 bands who anybody gives a fuck about.

And then the second year was great. We headlined a showcase, and everything went really well, and we thought it was great.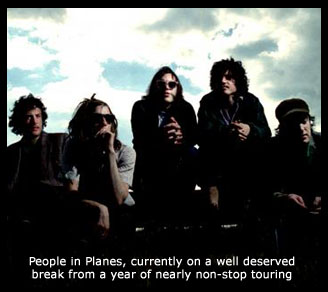 RSJ: I read an interview where you mentioned getting better reactions in the States than at home. Why do you think that is?

PR: I guess that's been happening since the '60s. I've been reading this Jimi Hendrix biography, and it's exactly the same thing happened to him. No one gave a fuck about him in America, and then he came over to London and was instantly a hero. Radiohead and Bush did the same thing. I was in Canada, and I was reading an interview with a band, and they were saying, "fuck this country, people haven't got a clue about music, they're just there for the buzz bands and they only like what the press like." And that's exactly the way I feel about my home country. I think any band that crosses the Atlantic is automatically going to have a better chance of success because of that element of intrigue of being from a foreign nation.

RSJ: You had Joaquin Phoenix direct your video for "If You Talk Too Much (My Head Will Explode)." What did you like about his ideas as opposed to others that were submitted?

PR: He didn't make it literal, for one. Cause all the other treatments had people's heads exploding and people's girlfriends shouting at them, which seemed a bit too obvious. And I just liked that he wanted to put across the concept that society is too preoccupied with things that don't really matter. Stylistically, as well, he painted a picture that was gonna be pretty cool.

RSJ: What's up next for People in Planes?

PR: We've got another single that's gonna come out at the beginning of October, and that's gonna take us touring until Christmas. And then a third thing that's gonna come out in the new year. We're really excited to be doing as much touring as we can. Also, we're going to start doing our own headline shows, and that's gonna be a nice change to be able to call the shots a bit more.
Got something to say about this feature? E-mail us.