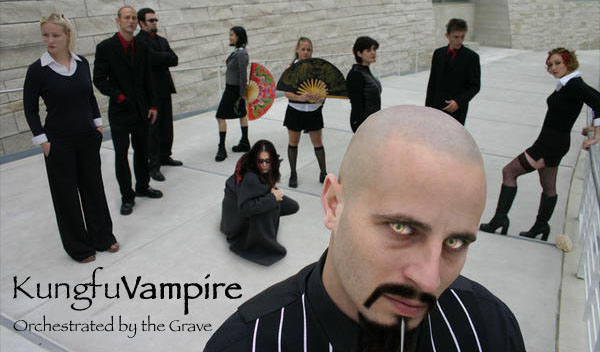 People confronted by a Kungfu Vampire sticker after one of their guerilla promotion escapades might make the assumption that they're goth rock or metal. But frontman (and band namesake) Kungfu Vampire describes his ten-member group as both "orchestrated hip-hop" and "rap for non-rap fans." This makes sense, considering they also perform swing and cabaret tracks, have a violinist, cellist and keyboardist mixed in with the usual musicians and lyrical subject matter leaning towards the macabre.

Kungfu Vampire have played several high profile shows this year in California, including headlining a show at The Whiskey A Go Go in Hollywood, a venue famous for helping launch acts such as The Doors and System of a Down. Later this year, they'll be performing at The Playboy Mansion and releasing their next album titled "Infecting the West." Recently, I caught up with KFV at a restaurant before he ran off to the nightclub he runs -- and lived to tell about it.

By: Geoffrey Smith II
Rock Star Journalism: After releasing IDM [intelligent dance music] style material under the LSP name, what made you decide to go the direction of orchestrated hip-hop with your current act?

Kungfu Vampire: It was actually not even a decision; it was more of an evolution. I'm still going to incorporate IDM stuff into my music. With the instrumentalists I had, and the things they came up with, that's basically where it ended up -- orchestrated hip-hop.

RSJ: Another evolution has been unfolding with your music the past couple years -- swing and cabaret-style tracks. What's influenced this?

KFV: Well, I think age has definitely had a big part in it. The lack of drug use -- marijuana, specifically, and psychedelics. Just not being into psychedelic stuff anymore. And I've just expanded more and more into what I like. Actually, what I've been listening to for years is Dean Martin, Sinatra, Tony Bennett and The Talking Heads. So, that influence was bound to come out eventually in my own music, and it finally did. It's actually the first [musically] influenced music I've ever created -- everything prior to this had been influenced by my own thing or movies.

RSJ: How have fans reacted to these new songs?

KFV: They actually really like them. It seems that there's always those few people that are diehard Kungfu Vampire fans that want to hear hip-hop, but 90% are stoked about the new stuff and that the new stuff is so diverse. People don't know what to think a lot of the time. I had a lot of people at the last show really confused -- they thought it was going to be something completely different from what it was. Currently, I tell people we're a mix between west coast gangsta rap and contemporary jazz. And that's fine with me.

RSJ: With such a diverse range of styles in your music, do you ever have problems with promoting?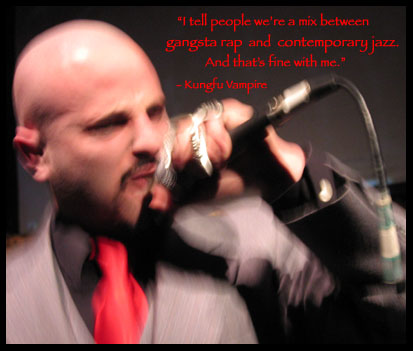 KFV: Yeah. One thing we do is "guerilla promoting." Once in a while, we'll just hit everywhere with stickers, and they won't say what [KFV] is; they'll just say "Kungfu Vampire." And that sparks a lot of interest. People tend to go to the website, and sometimes they think it's cool, and sometimes it's the opposite of what they thought it would be. Sometimes they don't like it because they thought it was going to be metal, but I do realize where my crowd lies, and I know we're "rap for non-rap fans." That's the impression I've gotten from people. So, I tend to not promote to hip-hoppers, and instead, promote to everyone else.

RSJ: My girlfriend is a diehard, old school goth music fan, and she loved your recent show.

KFV: Yeah, it's a trip how we appeal to those kinds of people, as opposed to hip-hop people who should love it. It's because it's an expanded, "out of the box" type of thing. Kanye West said, "Hip-hop is the most closed-minded form of music." He was right about [hip-hop fans being] "in the box," and if [hip-hop] is not "in the box," they just disregard it.

RSJ: Where will KFV go next, musically?

KFV: Well, we are definitely going to be incorporating a lot more electronic stuff, a lot more dance, a lot more gymnastics and kung fu [theatrics]. Even at our next show, you're going to see belly dancers as part of the set. I held off on that for a couple years; January of 2004 was the last time I implemented that stuff [into our live performances]. But with this new band, I wanted to make sure the music was really, really tight before I came out with any kind of theatrics. As much as people like to see that kind of stuff, the truth is that we're trying to make music that's mind-expanding and super fun and creative, and that other stuff comes second.

RSJ: You recently played at the famous Whiskey A Go Go in Hollywood, and just performed a show at the Brookdale Lodge in California's Santa Cruz Mountains. Next up is a gig in San Jose, California, and then the Playboy Mansion in September. How did the Playboy Mansion show come about?

KFV: I'm a good friend of the person who invented the removable stripper pole [from] stripperpole.com. He's having his 40th birthday party there, and Hugh Hefner said it's okay. We've partied there before; this time we'll go to play. He has us playing The Viper Room the night before, so, it's going to be an action-packed weekend.

RSJ: Will you be doing anything special for that show?

KFV: We're going to do some covers -- we don't ever do covers. We're going to do some for the Stripperpole.com crew, stuff they like, and for my friend's birthday. It's outdoors, so there's not a lot we can do except have a good time, and maybe even perform in tank tops and shorts, which would be super fun.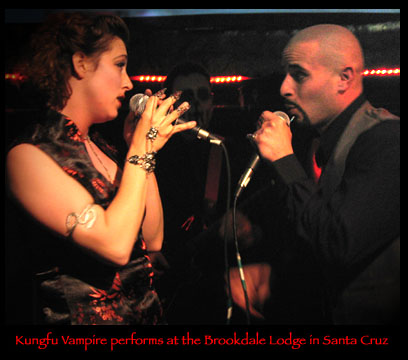 RSJ: I notice you tend to be selective with when you play shows, but heavily promote the shows you do have. What's your philosophy behind a KFV show?

KFV: I just don't feel like shows are the best way to get your band known. To me, shows are a treat for the fans. And if there's new fans because of it, then that's cool, too. I've gotten a little closer to the fans lately, which is something I used to be really bad at, and now I know why -- it's caused some problems. Nonetheless, I think the selection of shows is very particular because bands can play themselves out really quick if they're not [selective]. I'm just trying to be really aware of that.

RSJ: Tell us where the Kung Fu part of Kungfu Vampire comes in.

KFV: Two buddies actually named me [Kungfu Vampire], sitting in my backyard in 100-degree weather at dusk. One of them said, "We should film a kung fu movie in your backyard," and the other said, "We should film a vampire movie in your backyard." And we started talking, and it just fit my character and personality.

When it was created, I didn't realize that it was actually a small sub-genre of kung fu movies. They're not called [Kung Fu vampire movies], but that's what they are. I'm kind of finding myself attracted to things of this nature, and there are a few movies out -- one's actually called "Kung Fu Vampire Killers." It's an independent film, a European film, and I'm going to buy the rights to the movie for re-editing it. There's another one called "Kung Fu Vampire Buster." It's a Hong Kong movie from the early '80s, and we're buying the rights to it as well. So, that's one of my aspirations -- to completely control those movies and put them out right. To make sure they're distributed right, make sure people can see them and make this sub-genre a little more than what it is.

RSJ: Lyrically, your music follows a more positive path than a lot of hip-hop acts today, staying away from common themes of violence or misogyny. Is this something you consciously go for when writing songs?

KFV: No, I write songs freely. They are what they are, even if I don't think that my mom, dad or grandpa, or women or certain people will like them or approve. I still write it, and as far as the niceness, then that's just how I'm feeling. If I'm feeling conscious, then I'm feeling conscious. If I'm feeling wicked, I can't help it. I've actually written a list of topics that need to be touched on through music, and I'm going to pursue those and see how that goes. Everything from road rage, to sex and girls -- which I've never really written about -- to a little bit of politics, corporate America, jail...different things that certain people tend to write about, but I'm going to write about from a true perspective, as a lot of it's happened to me.

RSJ: With ten musicians, a stage manager, and a guy on visuals, do you feel KFV is complete in its line-up?
KFV: I do feel like we're slightly incomplete because of the theatrics we haven't been doing, but we're working on that. And I'd really like some horns. Other than that, I'm really excited and happy with the crew I do have and don't want to lose any of them at this point.

RSJ: With such a large pool of musicians to pull ideas from, does this make the songwriting process easier?

KFV: It makes it a little harder because you don't want to hurt people's egos, you want to cater to people's talents and you want to allow people to be individuals. But still, understand that it's a group and that the more people, the more input. At times it can be good if the vibe's right and it's churning. I want everyone to feel like they have an even part in it.

Now, there are certain people in the band that know they're not producers or composers, and they're fine with that -- we don't need a million composers. Sadie, our keyboardist is a composer and producer for the group, and she's done a couple tracks that are very well done. She knows what I like, and she knows my style -- she caters to it. Rose, the violinist, has produced an interlude-type track called "Leave" that's really nice.

RSJ: You're currently working on a new release; when can fans expect to see it?

KFV: I'm trying to outdo myself on the last album, and I'm having a hard time. The last album was very strategically done, and it took four years. I'm thinking [the new album will be complete] at the end of the summer, maybe fall. The next couple months, we'll probably end up doing [the local music events] Music in the Park, Day in the Meadow, and Music after Dark. But we'll still be working on the album. From there, it's just coming up with a really tight album cover and putting it out.

RSJ: Are you involved with any music outside of KFV right now?

KFV: I'm producing for a couple random people, and I've done guest appearances, but the only thing I'm really doing now is taking on the job of running Johnny V's nightclub in San Jose to help out the scene. I heard lots of people complaining about [the local music scene], and I have my head on straight enough that I can devote time to it and not kill my own thing. It's one of the coolest live venues in San Jose; I call it the "Only No-Bullshit Bar in San Jose," and I also call it the "Hillbilly Ultra Lounge." All these "ultra lounges" are around here, and there's nowhere for regular folk like us to go, wearing flip-flops and jeans. This is my involvement -- throwing rockabilly shows, hip-hop shows and metal shows to fix that.

RSJ: What aspirations do you have for KFV?

KFV: Aspiration for world domination. I always joke and say, "I'll see you guys on Conan O'Brien. We're doing this for Conan -- once we do Conan, it's over." But that's just a joke. The aspirations are to be able to do this as our daily thing without worrying about the normal bump and grind -- you know, sitting in traffic on the way to work. I want to relieve my bandmembers of that and just be able to live off this. I don't know about the big tour thing; I'm still selective. I'd like to play CBGB's before they close in November, and I'm in talks right now for doing a Halloween show. The aspirations are to go all the way, whatever that may mean, hopefully independently while doing it.
Got something to say about this feature? E-mail us.