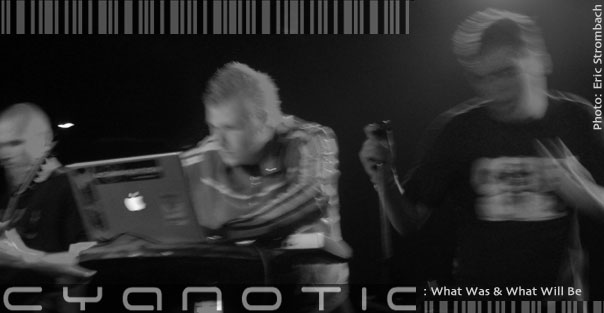 When we first sat down with Cyanotic's Sean Payne in April 2005, we were interviewing someone who had a fair amount of success with his band's debut EP, was about to release his first full-length and had a lot of aspirations about putting the "industrial" back in industrial music. We caught up with Sean a few times over the following year, as he watched those aspirations turn into something more than just ideas, receiving plenty of positive reactions to "Transhuman" and finding that there was indeed something of a market for someone who wasn't jumping on the EBM bandwagon. All this culminated in an opportunity to perform with one of his biggest influences, with Cyanotic taking the opening slot on Acumen Nation's December tour. So, once again, we meet up with Sean for a look back at the year that was. And this time, the question is not how to get Cyanotic going, but where does Cyanotic go from here?
Rock Star Journalism: You recently finished four dates with Acumen Nation. How did you feel about those shows overall?

Sean Payne: They were a total blast. I just wish there was a little more sober (laughs). Going out on the road is like a release; it's like an awesome vacation. We had a ball, getting up there with Acumen, doing the Nitzer Ebb cover every night.

RSJ: Was that planned out, or did you just get up there?

SP: It was planned right before the show, and then it went over well. We did it every night except Cleveland. Overall, the whole tour was the best touring experience we've had thus far, and it just keeps getting easier and better.

RSJ: I noticed you had a different line-up from the last tour.

SP: Drew, my original co-writer, has been going through some rough personal patches in his life, so he just decided to stand back and be around his family for the holidays. As far as everybody else, on the last tour we had two guitarists and one would switch off and do keyboards. But we thought we should have a keyboardist for every song cause we're not a metal band. We don't want to play all our stuff off a backing tape, so I made a conscious decision to put the electronics at the forefront.

We need to go up there as an electronic band that can be aggressive and in your face. I don't see a lot of people doing that. Not to say that they don't have a good stage presence, but VNV Nation and Combichrist and all that stuff -- they're all kind of tape-based. I'm not gonna lie, it's not like we're triggering every drum loop, but we're triggering all of our samples, all of our atmospheres. All the synth lines are live, and we have the live drums to top the electronic drums. What I was really impressed by was our drummer, Eric, who is the vocalist for PTI. To have him out there on the kit was an amazing time because we were hearing some looseness, there were fills and stuff we'd never had before. After that, I really want to start working with a live drummer way more.

RSJ: Was there any one experience from this tour that was the most memorable for you?

SP: I would say it has to be a tie between the Pittsburgh show and the Chicago show. The show in Chicago was good; it was an extreme rush to get on stage and see all these familiar faces that we had been fans of for so long. Like, Jim Marcus from Die Warzau was there, Charles Levi from Thrill Kill Kult, the guys from Wax Trax II were there. And also, on top of all that, there was my mother (laughs).

Our set in Pittsburgh was the best show we've ever played. Basically, Pittsburgh was so awesome because I was seeing people doing what I was always imagining seeing at a show of ours. Which is, there were people dancing -- you know, the slow motion dance through the cobwebs -- and then there were people just moshing. And I was like, yes! I'd always wanted to see that hybrid live.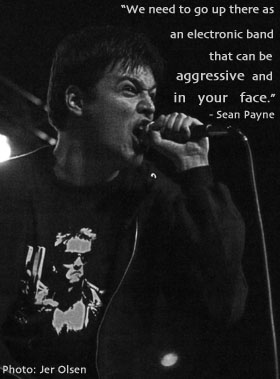 RSJ: That's great when it's how you imagined it would be, cause so many things don't turn out that way.

SP: Oh, I know. Cleveland didn't. We were expecting a nice turnout, but it was a shitty night -- it was bad weather, the promotion wasn't too good. When there's only like 20-30 people sitting up front, they're not really going to get too into it, I've noticed. [Jason] Novak came up and started doing lights for us from about half of our set onward -- of course, as soon as the lights kicked in people started liking it more.

RSJ: Are you thinking about the next album yet?

SP: Basically, we have every song in some skeletal stage. It's definitely going to be mostly new material, but it is going to have a couple remixes from the last album. But they're not going to be remixes like, "oh, let's add a dance beat" -- we're going to make radically different interpretations.

I want to kind of go back to "Mutual Bonding Through Violation." Not in terms of sound, but in terms of how we worked on that album. That whole album was written, produced, recorded, pressed and distributed no more than two months after we started. Whereas with "Transhuman," we spent too much time trying to perfect everything. With this album I think we're just going to let it flow. I know every band says this, but it is a lot heavier. It is a lot bigger sounding, and it's a lot more electronic too. That's something we're trying to emphasize -- to make it heavier but with less usage of guitars. This whole new record is turning out like a really big glitchy beat bastard.

RSJ: That should really be the title of it.

SP: Glitchy beat bastard? (laughs) Well, I'm still contemplating the whole title. It was originally supposed to be "Posthuman" and it was gonna be like a direct companion disc. But I think the material's gonna deviate so far from it that it's basically going to be a new album. So, I've been toying with "Tech Noir" as the title, which is a reference to one of my favorite movies, Terminator. It's the club Sarah Connor goes to.

We have some amazing artwork already in the stages, and we've got some cd-rom material we're hoping to include on this disc. Cause we got an amazing amount of awesome live footage from this last tour. And on top of that we had a couple of awesome kids from an art institute that got in touch with us and wanted to do a video. They showed us the rough cut of it, and, seriously, I can't see why it wouldn't get played on Fuse or MuchMusic or any of those cooler video outlets that are still playing independent bands. It looks like an old school Ministry video.

RSJ: Which song is it for?

SP: "Order Out of Chaos." We all looked at it and we were like, if I saw that video it would make me interested in that band. It's not just like a couple kids standing around in a basement. It's filmed high-definition, and there's some awesome location spots in it, like a graveyard with a gigantic factory behind it and a bunch of businessmen in the same suit standing around.

RSJ: That's such classically industrial imagery.

SP: I never wanted to be anything but. That's where my love is. The past three months all I've been on is a kick for gangsta rap, drum 'n' bass and old school Wax Trax late '80s industrial. That's what's really influencing the new album; I really want to bring the old school back.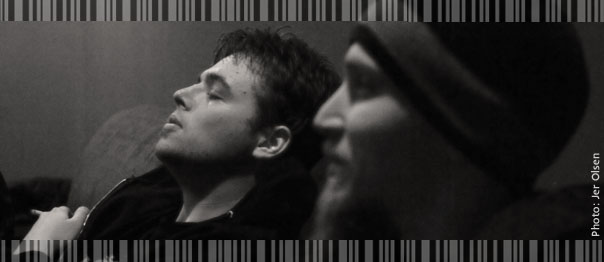 RSJ: I think that influence is part of what sets you apart. There aren't a lot of people trying to do that right now.

SP: The sad thing is a lot of artists seem to be kind of dropping it. Like, "oh the industrial thing's dead." No -- it's as dead as any genre. It's as dead as punk, it's as dead as metal. But you can reinvent it. It just needs a little kickstart again. Cause there are kids that like it, and they're not all industrial kids. You can introduce open-minded metal kids to this stuff, and they love it.

When industrial was closest to being mainstream, it was during the mid-90s when the first Bush was getting kicked out of office. And then, I think once Clinton came around, and gas prices weren't soaring and we weren't in a terrible depression, it kind of lost its fervor. And now I see a resurgence because people are pissed off. Industrial music is about making a statement. And now I really see a resurgence of that kind of anger. In the '90s, industrial kind of became bad love songs or it became happy. It became Stabbing Westward or Apoptygma Berserk.

RSJ: Before you put out this next album, are you still planning to do the re-release for "Transhuman?"

SP: We need to. We are exceptionally low on copies. So, right now, I'm feeling out whether we're going to re-release it independently or go with a label that will give it some good distribution. There were a lot of ideas for re-releasing "Transhuman;" at one point I thought maybe we'd do a two disc, but then I basically realized that I don't want to oversaturate people with the 19th version of this song. Like, I love all those Nine Inch Nails remixes, but there's like 78 versions of "Mr. Self Destruct." You can only do it so many times. So, the new album will be like a continuation of "Transhuman," and then we're hoping to do the re-release as well.

RSJ: Looking at the distribution aspect, your cd is now available through sites like Virgin Megastore. How did that come about?

SP: That was pretty much due to CD Baby. I have some nice things to say about those fellas. I don't even know how that happened, but all of a sudden I got an e-mail that it was available.

[Distribution] has been a major hurdle that we have to cross. We need to get in stores. We've sold a great number of cds through the cyanotic-online site and through Cracknation, but there's still all the people that would buy the cd, I'm finding, if it were in stores.

RSJ: I know you said something about a possible overseas tour next year. Do you have any more details on that?

SP: Well, J.P. Anderson and I have been in talks about doing some overseas shows cause he went over there with his previous band, The Shizit. We have a huge following in the UK, and I would kill to get over there and play two or three shows. It would be an astoundingly awesome time, but right now it's all a question of finances. Which really does suck. We've had so many opportunities thrown at us and then we can't.

This is why I'm thinking about finding a label. But it's scary, cause if we sign with a label, that label might not really give us what we need. Like, I'm still wondering if I should be doing it myself or not. It's nice to know how much money you're really making, but at the same time it also sucks cause I have to send out all these orders myself. When it comes down to it, where I've got 25 orders to send out in a week and I've got a regular job and a wife and I'm trying to do the new album on top of all this, it would be nice to have somebody doing it for me. But I just haven't figured out if it's worth somebody doing it for me. Cause thus far we've been okay. Thus far, we've done pretty damn well at being self-sufficient.

RSJ: What was your highlight of 2005?

SP: There were so many. Three top things would be mixing down the "Transhuman" cd with Novak in Cracknation studios, playing Pittsburgh on this last tour and playing Nation in DC with Dismantled.

RSJ: How do you feel about the progression of the band so far?

SP: I'm really happy that people are taking notice at all. When I started this thing I really thought it was gonna bomb. I was just surprised that people responded so well to that first EP. And I thought maybe that was a fluke, but then I saw the sales happen for "Transhuman," and that's what really kinda got me off my chair and started me thinking maybe I should start promoting this more. What we've accomplished so far I'm really proud of. I mean, it's all due to the fans; it's really nice to see that kind of outpour happening.

As far as how we've progressed, we need to get more releases under our belt. We aren't a band that should be sitting around for four years. We're not gonna pull a "Nails" anytime soon. I'm happy with what we've achieved, but it could always be more. And that's what I'm hoping to do in 2006 is really push ourselves even more.

Got something to say about this feature? E-mail us.