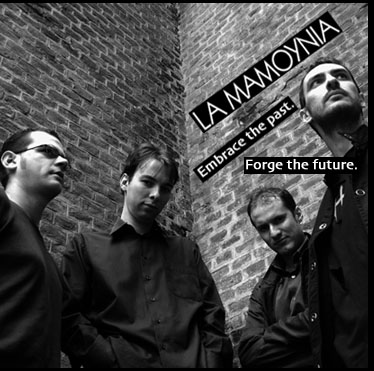 The industrial/gothic scene is not dead. Despite what some feel is incontrovertible evidence to the contrary, there are still those who argue that reports of its demise have been greatly exaggerated. "We think that goth/industrial is not dying; it's only passing through a transformation stage," says Giuseppe Agnosti of Italy's La Mamoynia. "This stage is always interesting and stimulating. By this transformation, the British dark music of the '70s has given birth to the different kinds of music that we know now."

So, by the same token that Manchester post-punk legends Joy Division begat the current New York shoegazer scene, La Mamoynia is positioning themselves as a modern interpretation of Front 242-style dark electronics. "Our sound comes directly from the darkwave and minimal electro of the '80s. But all is mixed with modern patterns," says Giuseppe of the songs contained on the band's current DKDDF Records release, "Mono Ego." Though this is arguably ground currently being explored by 3/4 of the artists on Metropolis, the six-year-old La Mamoynia doesn't want to be pigeonholed as just another EBM act.

"Our music, made with electronic sounds mixed with standard instruments, allows us to come out from the ocean of clone electro bands that play around today," says Giuseppe of the band's musical line-up, which includes live drums and two bass guitars. Also twisting the generic formal is La Mamoynia's use of both English and Greek lyrics, a practice Giuseppe admits leaves some "puzzled."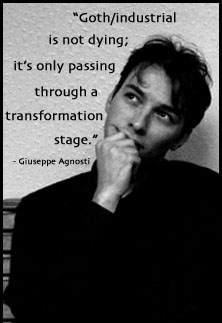 But the band has received spins from US DJs, defying the traditional sentiment that English vocals are a requirement if you want worldwide attention. "We found it amazing that some DJs in San Francisco, Detroit and Chicago were playing our music. So, we thought that the USA is the right place to spread our music and reach new people."

Ah, yes -- the bid for Stateside success, a time-honoured tradition for up and coming European bands. But while their music has been infiltrating California parties, La Mamoynia has yet to physically make their presence known in the States. "It would be nice to tour in the US, but we are an underground band, and at now it's not possible for us to organize something like that; it would be too expensive for us and our label."

But rest assured, when La Mamoynia is able to cross the pond, they're bringing a hell of a show with them. Giuseppe states that one of the reasons he writes songs is so that he can play them live, citing the band's performances in Germany and Switzerland as some of their best. He feels that the band takes on an entirely new energy when they step in front of the crowd: "Someone labeled us 'avant electro punk,' and we think it's for our attitude we have on stage. Our songs, once on stage, become rough, post-punk oriented."

So much for the "electronics only, please" policy adopted by much of the EBM crowd. It's this sort of musical rigidity Giuseppe wants to steer clear of, an increasingly rare notion in the modern electronic world. Step aside scenesters -- La Mamoynia's ready to bring the sort of genre-defiance that just might actually enliven the scene.


Got something to say about this feature? E-mail us.