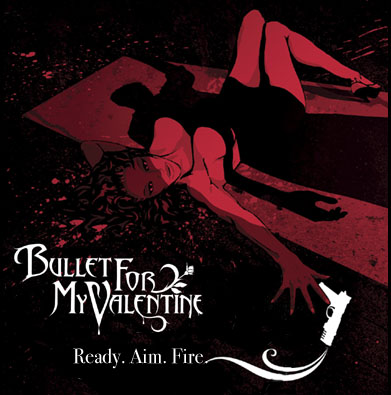 What is it that truly determines whether a band can be considered "famous?" Sure, famous bands get loads of people out to their shows...but I've also seen some local bands that can pack a rec hall basement. Famous bands also tend to tour with other famous bands...though there's a lot of no-names that can claim to have opened a high profile gig. But there's one thing that only the members of bands which have reached a certain level of prominence ever experience. And it has something to do with the inability to eat a cheeseburger.

"I couldn't eat my McDonald's the other day, I just had so many kids coming up to me," says Bullet For My Valentine drummer Michael "Moose" Thomas. "Before, I used to come off our tour bus when we were supporting bands like 36 Crazyfists, and kids didn't know who we were. It's gone a bit nuts now. I wouldn't swap my career for anything in the world."

Such is the life of a rock star. As of late, the UK-based metal band has been caught up in the oft-mentioned whirlwind that tends to accompany newly acquired celebrity. Having previously toured with Chimaira and Anthrax, released an acclaimed new album and opened the 2004 Download festival, the band's been steadily gaining supporters in their native country. "We were doing like 2000 people a night venues over here," says Moose. "Every night we had pyro and fireworks and everything going off. We try to put on an arena rock show in a club."

This is hardly the case of an overnight sensation, however. Bullet's members have been working together in a number of bands for quite some time, Moose having first played with singer Matt Tuck when they were teenagers. Previous incarnations of the band never really took off however, something Moose attributes to "trying to imitate too many other bands that were around at the time. When we decided to form Bullet, we just sat back, relaxed, and wrote what naturally came out from what we all grew up listening to."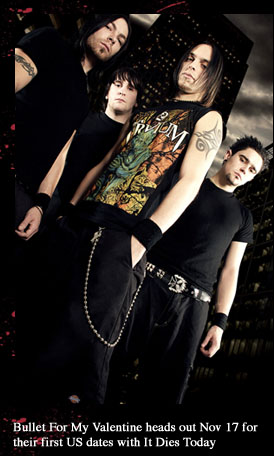 What they grew up listening to were some of the giants of the old school metal scene. And it's these bands that Moose would like to see his band compared to, as opposed to the association they tend to get with current Welsh success stories Funeral For a Friend and Lostprophets. "We don't sound anything like them -- we're not really like a hardcore/metalcore band. We're more like an old school British act. In a perfect world, my band would be up there with Judas Priest and Iron Maiden."

A high mark, indeed. And one that Moose feels they have the potential to achieve with "The Poison," their debut full-length release. "We want it to be a landmark album like 'Number of the Beast' was," says the drummer. "It's a 10 times better record than [our EP]." The making of a future metal classic wasn't an easy process, however. The band went through numerous recording sessions, scrapping their first producer, and eventually deciding to re-record with Colin Richardson, with whom they previously worked on their EP. "Colin knows what we're after," said Moose. "He makes a metal record sound metal."

It seems the UK press agrees, as the band's been referred to with such lofty claims as "the future of British metal." But now it's time to find out what the US thinks. While it's been a steady ascent for Bullet overseas, the band is still a fairly unknown commodity in the States. And though Trustkill's first international signing won't be releasing "The Poison" in the US until February, Bullet will get a chance to prove themselves sooner, as they head out for their first American tour with It Dies Today. "We're really looking forward to meeting the American crowds and just rocking out as hard as we possibly can," says Moose. "We'll show you how the British do it." If Bullet can get the American metal kids as enthralled as their UK counterparts, they could find success in the States comes faster than a speeding...well, you know.
Got something to say about this feature? E-mail us.