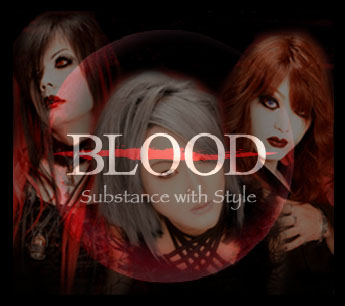 The vampire. A standard in horror movies, Anne Rice novels and, of course, gothic culture. To say that bands in this scene have borrowed from the lore of the undead is a bit of an understatement. But while the vampire concept is generally tied to European culture -- Vlad was from Romania after all -- one of the most intriguing current interpretations can be found in Japan's BLOOD.

"It is a plan which I had been nursing for a long time," says the band's principal songwriter, Kiwamu. "I wanted to make the concept album about a vampire." And so, armed with the makings of a J-rock opera, Kiwamu created "Vengeance for BLOOD" and proved that a vampire revenge drama can play in not only the Japanese Visual Kei scene, but across cultural boundaries as well.

Getting the music out to those cultures is where it gets tricky, however. Ask anyone whose braved an anime convention, and they'll tell you that finding a J-rock import for under $40 is less likely than avoiding a screeching cadre of fangirls at a L'Arc-En-Ciel show. Though Kiwamu does not believe his band is at this point well-known enough to warrant the interest of US J-pop distributor Tofu Records, he would like to find affordable worldwide distribution in some manner. "Good price, good music, for good fans. It is my policy."

Just don't think that makes it okay to download BLOOD's music from your favorite file sharing site. "Many people can listen to our sample MP3s on the internet. But there are some bad persons that make illegal download sites. I can't forgive this kind of shit person. Illegal download means they rape me and our songs."

So, if they're not relying upon the denizens of the World Wide Web, one might ask how exactly a band that sings in Japanese and currently lacks international distribution actually managed to spread their music across continents. Turns out they did what every 19-year-old kid in a punk band knows to do -- they got in the van and hit the road.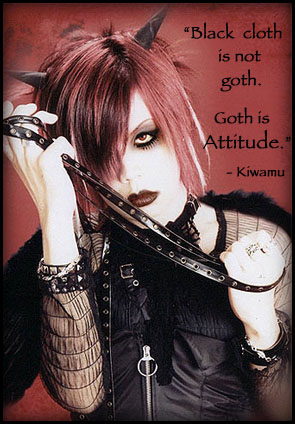 As the first to tour Europe, as well as play select shows in North America, BLOOD has set the mark and reached a wider market than any of the other J-bands that are now making names for themselves in other areas of the world. According to Kiwamu that was always just a part of the plan. "Visual kei bands reached the top of the scene, so they are looking for the new markets. BLOOD made the way by having the live shows in Europe, so [other bands] are followers of BLOOD."

It's an interesting position when you're the leader of a revolution, however, and the road is not always easy. Besides finding out that US fans are crazy -- a positive according to Kiwamu, who would actually like to see the kids in the States "be crazy more" -- there have also been not so fortunate situations to contend with. "The rewritten contract scandal," sighs Kiwamu, was just such an incident, occurring when the band toured France in September 2004. "As I was talking with one of the French sponsors backstage, another sponsor pulled up the written contract for the live show that everyone had signed two weeks before, and right before the eyes of all three of us, he took a ballpoint pen out of his pocket and just rewrote one of the three parts of the guarantee. The three of us and the people who had come with us from Japan all protested in our anger, so that situation finally calmed down. But I was really shocked by the idiocy of that sponsor who just grabbed a pen and rewrote our already signed and settled contract, thinking it would go over with everyone. [This situation] really crushed my impression of France."

Shady foreign promoters aside, Kiwamu remains ever steadfast in his procession toward worldwide domination for BLOOD. And one has to believe he's got a good shot at it. Recently, Japan is starting to get noticed in the western world for having some new and interesting things happen in their darker music scene, spurred on by the interest in Visual Kei style. Even skater chick turned fashionista Gwen Stefani is touting the Japanese gothic lolita look and bragging about her Hysteric Glamour t-shirts. But Kiwamu would like to make it clear that despite BLOOD's undeniable style points, it's the music that matters.

"Visual Kei fans don't listen to music. They just enjoy the face of band members. And goths enjoy feeling the atmosphere. I feel the 'real goth' is few in the goth scene. Black cloth is not goth. Goth is attitude."

Questioning musical integrity? Dissing the scene? BLOOD may be from Japan, but it sounds like they're well ready to take on the role of American rock stars.
For more J-rock info, check out our feature on Japanese music at Otakon
Got something to say about this feature? E-mail us