There are certain times when, as a reporter, you conduct an interview that truly allows you insight into the artist you are profiling -- that provides you a better understanding of the music the person creates and the motivation behind it. The ladies of Rock Star Journalism certainly feel that we had just such an experience, as we gained a much enlightened perspective on Mindless Self Indulgence after our interview with their frontman, Little Jimmy Urine. So as to convey this experience to our readers, we've reprinted what we received via e-mail exactly as it was sent to us. Welcome to the world of MSI.
Rock Star Journalism: You are about to release the first MSI album in five years. Why the long break since Frankenstein Girls?

Jimmy Urine: I WAS WASHING MY HAIR

RSJ: Why did you choose to release the new cd in three different formats?

JU: ITS NOT LIKE ITS IN STRAWBERRY, VANILLA AND CHOCOLATE MOTHER FUKA...LOOK FIRST THEREZ THE RECORD...THEN THE CLEAN FOR THE PRE-TEEN SET WITH EXTRA SHIT /VIDEOZ/AND NEW ART IN LEW OF THE POTTY MOUTH...AND LASTLY THE VINYAL...CUZ EVERYONE LOVEZ VINYAL (ALSO WITH DIFFERENT ART AND EXTRA SHIT)

RSJ: In what ways would you say this album differs from Frankenstein Girls?

JU: THE SONGZ ARE LONGER

RSJ: When you began work on this album, was it completely spontaneous or did you already have an idea of what direction it would take?

JU: JUST WRITE 1000Z OF SONGZ THEN WE SIFT THRU THEM AND SHAPE AN ALBUM OUT OF THAT...SIMPLE NO MESS NO FUSS

RSJ: You've titled your new album, You'll Rebel To Anything. Is this a commentary on the music that is viewed as rebellious by today's standards?

JU: FIRST OFF THE RECORD IS TITLED "YOULL REBEL TO ANYTHING AS LONG AS ITS NOT CHALLANGEING" AND I CANT GET ANYMORE STRAIGHT FOWARD THEN THAT BABY

RSJ: Do you think it's possible to be shocking or rebellious anymore?

JU: NO...BUT IT IS POSSIBLE TO STILL MAKE MONEY OFF IT

RSJ: You've had problems with record labels in the past. How did you get involved with Metropolis?

JU: READ AN OLD INTERVIEW BITCH

RSJ: Censorship has been an issue you've had with past labels -- were you given complete freedom with Metropolis?

JU: CENSORSHIP IS A WAY OF LIFE BABYZ...YOU WILL NEVER BE CALLED BLOODY MAXIE PAD WITH THE SONG WET FARTZ FOR LOVE AND HAVE A NUMBER 1 HIT...WELL NOT IN MY LIFETIME ANYWAY...WE WERE ALWAYZ DICKZ IF PEOPLE TRIED TO CENSOR US AND WE MADE WEIRD DEMANDZ LIKE "OK IF YOUR GONNA CENSOR ONE SONG THEN CENSOR EVERYTHING YOU FUKERZ"...WE DIDNT HAVE TO DO THAT WITH METROPOLIS...THEY KNEW WHO WE WERE AND WE DIDN'T HAVE A SONG CALLED WET FARTZ FOR LOVE

RSJ: You said in a past interview that in New York you "don't really fit in with the industrial and goth kids." However, you're now on a primarily industrial/synth label. Why do you think that the industrial/goth community has taken to you over that past couple of years, and shown so much support?

JU: CUZE I AM THE GOTHIC R KELLY BITCH...EXCEPT WHEN I PEE ON YOU I PEE BLOOD BABY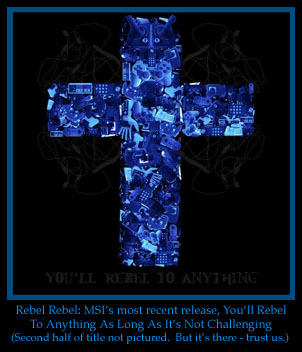 RSJ: You released the Left Rights cd on your Uppity Cracker label. Have you signed anyone else recently?

JU: NOPE...I HAVENT HEARD ANYTHING GOOD LATLY...BUT I HEAR MOZART GOT DROPED FROM HIS LABEL AND THAT BEHTOVEN IS SHOPPING AROUND

RSJ: You have an ad for submissions on the Uppity Cracker website. What are you looking for in a band that you'd consider signing?

JU: SOMEONE WHO WILL HELP ME BUY A YACHT

RSJ: When talking about record labels, you mentioned that parent companies don't care at all about the labels they own. Do you think that if more people went out on their own and started labels and did things independently that the music industry might begin to see a turn around?

JU: NO...PEOPLE ALREADY DO INDEPENDENT SHIT NOW MORE THEN EVER...NOW BANDZ NEVER DIE...THEY NEVER BREAK UP...AND THEY ALL HAVE SIX SIDE PROJECTZ...GOD DAMN IT WHERE IS MARK DAVID CHAPMEN IM GONNA SIGN HIM BABY

RSJ: I've seen your out of print debut, Tight, sold for as much as $150 on the internet. Do you have any plans to ever re-release this album?

JU: YEAH WE WILL RE RELEASE IT AFTER IT GOES FOR 900$ ON EBAY

RSJ: You recently worked with Jhonen Vasquez for your new video. How did you get involved with him?

JU: I LOVE COMIX...I LOVE TO WORK WITH GUYZ WHO DRAW SHIT...ONE DAY I TOOK A LONG HARD LOOK AT THE T-SHIRTZ OUR KIDZ WORE TO OUR SHOWZ...AND I NOTICED THAT EVERY OTHER T-SHIRT WAS INVADER ZIM/GIR/JTHM/SQUEE/FILLERBUNNY/ECT ALL COMIX OR ANIMATION DONE BY Jhonen Vasquez...SO WE GOT IN CONTACT WITH HIM TO DO SOMETHING AND HE KNEW WHO WE WERE AND LOVED OUR SHIT AS MUCH AS WE LOVED HIS SHIT AND WE ALL LIVED HAPPILY EVER AFTER IN SHIT

RSJ: How did the video shoot go?

JU: GREAT...HOW DID YOURZ GO?

RSJ: You've emphasized the need to be original in the past. Do you think that's getting harder, as the blending of styles, specifically the electro-punk combination, is far more common today than it was in 2000?

JU: NO the electro-punk combination IS NOT MORE COMMON NOW...IM SORRY BUT A ROCK GTR WITH A LOOP OR A SYNTH IN A ROCK SONG OR SOMEONE RAPPING OVER METAL DOEZ NOT COUNT FOR SHIT...THAT SHIT CUMZ PREPROGRAMED IN SOFTWARE AND WAS AROUND BACK IN 1990...IF YOUR GONNA TELL ME SHITZ DIFFERENT NOW WITH ELECTRO PUNK COMBOZ THATZ BULLSHIT WHERE ARE THEY WHO ARE THEY AND WHY AINT THEY ON TOUR WITH ME NOW...IT IS BECAUSE THEY DONT EXSIST OR THEY ARE A BUNCH OF GTR FUKERZ WITH ONE FUNKY DRUM LOOP SAMPLE TRYING TO REWRITE PRETTY HATE MACHINE AGAIN AND AGAIN...THE END

RSJ: You have made statements about how you felt that there was nothing really interesting happening in music during the height of nu-metal. Now that that era is over, do you still feel as though there is no true innovation?

JU: WELL NOW EVERYTHING IS IN 3 SEPERATE CAMPZ...YOU ARE EITHER VANZ WARP TOUR POPPUNK CRAP...OZZFEZT FUKKING METAL...OR COVER OF SPIN HIP INDY BAND...RAP AND POP DOEZ NOT COUNT...IF YOU HAVE GTRZ AND ARE WHITE YOU MUZT PICK ONE OF THESE 3 CAMPZ TO BELONG TO...MINDLESS SELF INDULGENCE HAS A LIFE OF ITS OWN...I DONT CONTROL IT...YOU DONT CONTROL IT...WE ARE THE LIVING ROCKY HORROR PICTURE SHOW...THERE ARE THINGZ YOU WILL NOT UNDERSTAND UNTILL YOU GO SEE THE MIDNITE DOUBLE FEATUE PICTURE SHOW LIVE BABY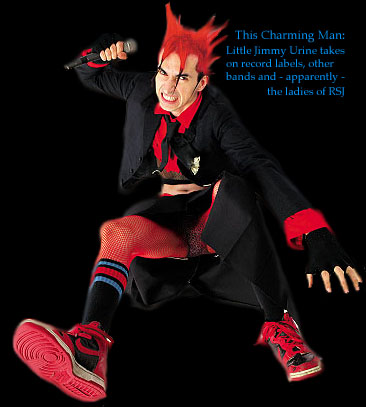 RSJ: You also mentioned that "people don't want music to change." Why do you think this is the case? When it changes, as all things do, where do you see it going? Where would you like to see it go?

JU: LOOK COOL MUSIC IS COOL...BUT EASY TO GET SELLZ...THIS IS THE PROBLEM FOR THE NEW HIP INDY BANDZ...THE COOLEST INDY BAND WITH THE BEST SONGZ BEARLY BREAKZ THE TOP 200...BUT THE BIGGEST LOAD OF CRAP IS NUMBER 1 FOR 35 WEEKZ CUZ ITS EASY TO GET...DIDNT PUT IT THERE...YOU DIDNT PUT IT THERE...BUT 25 MILLION PEOPLE DID PUT IT THERE...THEY WANT CHANGE ITZ UP TO THEM...NOT ME

RSJ: You've stated many times that you don't consider yourselves "musicians." What's the difference between what a musician does and what you do?

JU: WE MAKE SHIT UP OFF THE TOP OF OUR HEADZ AND DO SHIT ASS BACKWARDZ UNTILL IT SOUNDZ DONE...WE CANT READ OR WRITE MUSIC AND WE DONT CARE WEATHER PEOPLE THINK WE CAN PLAY GOOD OR WRITE CORRECTLY...WE JUST WANNA CYNDI LAUPER THAT SHIT BABY...MSI JUST WANANHAVE FUN...AND SO DOES AN AUDIENCE

RSJ: In researching for this interview, I noticed you'd been asked several times about drug use, and have always answered that you don't use drugs of any kind. Do you feel that being a performer vicariously makes you a role model for fans? Do you feel this is an unfair responsibility handed to performers, when people should make their own decisions?

JU: I DONT CARE BABY THROW YOUR LIFE AWAY...I WILL HELP YOU DO IT...CRACK IS WACK...I WANT A NEW DRUG HUEY LEWIS...I AINT A DRUG CLINIC I AINT MCGRUFF THE CRIME DOG I AM NOT A USER OR A SELLER OR YOUR MOM...SO FIGURE IT OUT FOR YOURSELF EVEN IF YOU DIE TRYING...ITZ NOT MY FUCKING PROBLEM

RSJ: For a band that's never had a traditional radio hit, you've developed a rabid following. How do you think you've won over so many fans?

JU: ENTERTAINMENT...STRAIGHT UP

RSJ: Having toured with ICP, another band that has a huge underground fan base, do you see any similarity between how they developed a following and how you have?

JU: WE GIVE THEM WHAT THEY WANT...US ON A PLATTER WITH AN APPLE IN OUR MOUTH

RSJ: Do you think you would want mainstream success if it were offered to you?

JU: WHAT FUKING PLANET ARE YOU LIVING ON WHERE SOMEONE OFFERZ YOU MAINSTREAM SUCSESS...I WANT TO MOVE THERE

RSJ: You described the ICP tour as a learning experience -- what was the most important lesson you took from it?

JU: NEVER LEAVE THE STAGE UNTILL YOU ARE DONE WITH THE SHOW...THEN WHEN YOU ARE DONE JUMP INTO THE AUDEINCE

RSJ: Most of your fans are familiar with your outrageous live shows. If you had to pick one, what show would you choose as your most memorable?

JU: THE ONE WHERE WE MADE IT THRU WITH NO INJURYZ AT ALL

RSJ: Having said that, much like Andy Kauffman, you "set out to create a reaction," do you see the reaction of your audience also as an art of its own?

JU: NO I SEE ANDY KAUFMAN AS LATKA ON TAXI EVERY NIGHT AT 2 AM ON CHANEL 11

RSJ: Do you ever feel like you have to continuously top yourself with the live antics to meet people's expectations?

JU: EVERY SINGLE FUCKING DAY...ONE DAY IT WILL STOP AND WE WILL ALL BE DEAD

RSJ: What was the first live show you saw that really impressed you? Why did this band make such an impression?

JU: TEARS FOR FEARS...BECAUSE MY MOM BOUGHT MY TICKET

RSJ: You'll be hitting the road again in April. Do you have anything new planned specifically for this tour?

JU: NOW IF I TELL YOU THAT I WILL SPOIL THE SUPRIZE FOR YOU AND UZ...