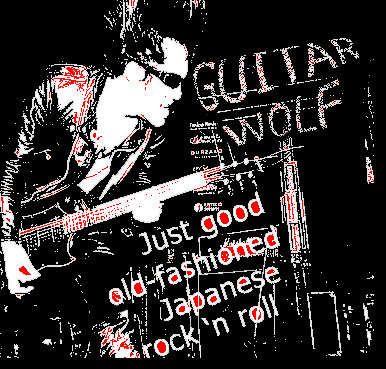 There's a difference between "rock stars" and "guys in a band." And it doesn't necessarily have to do with number of records sold or the size of venue they can fill. It's something about the way fans react that sets rock stars apart. It's that ability to generate a sense of awe when they walk in the room; it's the inability to walk down the street without attracting a crowd. And never have I felt more in the presence of rock stars than during the time I spent with Guitar Wolf.

That's to say nothing bad of the guys themselves -- the members of Guitar Wolf were among the friendliest I've interviewed. They were far from egotistical, though one could argue that they have every right to be, given the reaction of the sold-out crowd packing Baltimore's Ottobar for their show. Not to mention the kids following them down the street trying to get photos. Or the person who had a license tag referencing the group's movie debut. Not bad for a three-chord punk band from Japan.

A three piece since 1991, singer/guitarist Seiji, bassist Billy, and drummer Toru are hardly rock 'n roll newcomers. Currently on their eighth album, "Love Rock," the Wolves are sticking to an 'if it ain't broke' classic punk style. Seiji describes their latest work as "just easy rock and roll album. We don't have technique -- we just play easy chords." The Wolves first experiences with American rock range from the Stray Cats to Elvis to that bastion of '50s retro cool, "Grease." Seiji would like to bring rock to the forefront of the musical landscape again, stating that "now, [there is] too much hip hop all over the world."

Guitar Wolf's first stateside release, "Wolf Rock" debuted on Goner Records in 1993. "We had a show in Memphis," said Seiji. "One promoter, his name is Eric, [came to the show] and I gave him our demo tape. He made our first album." As the Wolves played more American dates, a rarity for Japanese bands, they began to develop a US following, due largely to word-of-mouth regarding their wild shows. One such gig, a New York record store show that saw Seiji jumping on -- and subsequently crashing through -- a glass case, caught the attention of Matador execs, who signed the band.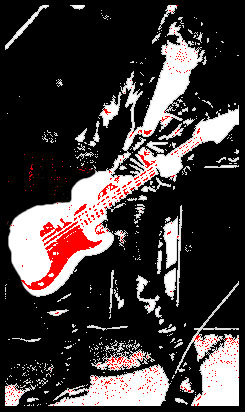 The members of Guitar Wolf attribute their non-stop energy to some dubious lineage. "We have the blood of wolves, " said Seiji. "I am a quarter wolf. My grandmother is a wolf. She is still living in Mt. Fuji (laughs)."

After seeing their show, the claim seems almost believable. And Guitar Wolf isn't just working the crowd into a frenzy, though I swear I've seen calmer crowds at Converge shows. The Wolves are taking the step beyond, actually making the crowd part of the frenzy occurring onstage. And we're not just talking about your run of the mill stage divers here -- though there were plenty of those -- we're talking about pulling a random kid onstage to take over guitar duties. As Seiji barked out MC5's "Kick Out The Jams," the newly appointed guest guitarist banged out some chords looking simultaneously thrilled and completely bewildered as to what the hell was going on. A reaction which, come to think of it, just about sums up the Guitar Wolf experience.

Like any good rock stars, the Wolves have also branched out into other areas of pop culture. They've got their own line of Jet G clothing and have even starred as the universe defending heroes of their own Japanese feature film, "Wild Zero." "That movie is non-fiction," said Seiji. "If you see zombie, please call me."

Okay, will do. If they fight monsters with half the vigor with which they attack their guitars, I think we're all safe from supernatural invaders. Of course, the ladies might not be safe from the Wolves, however, as they point out that when it comes down to contrasting the American and Japanese touring experiences, it's all about the girls. "Many blondes in USA," said Seiji. "Many blondes make us happy." Spoken like a true rock star.