Since when do hardcore bands have to be pretty? There was a point at which the pit scene was about as far from the high fashion scene as anything could get. But in some circles, it has become just as important to have the right look if you're screaming, as if you're doing synchronized dance moves. And Justin Brannan of Most Precious Blood, for one, has had enough. "People forget what this music is all about. It's not about looking pretty and playing dress-up; it's about what's in your heart, your fury," said the MPB guitarist. "Why are you here? Why do you go to shows? Just to be 'seen?' Or do you need that release in order to stay on this side of sanity? Give me the fury and the rage -- save the drama for yo' mama."

Most Precious Blood was born out of the world of New York hardcore, a scene Justin describes as "truly for the misfits, for the people who didn't fit into normal society." He recalls the hardcore shows of his youth as violent, but undeniably passionate events. "One of the first shows I went to was Merauder at this place, the Crazy Country Club, in Brooklyn -- it was 1991 or 1992. There were dudes in the pit with hammers, guys getting beaten with chairs. I was scared shitless, but I was hooked; it seduced me. From then on I knew I'd found a home."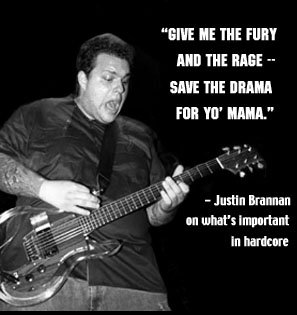 Since their inception in 2000, Most Precious Blood has been home to a variety of members of the New York hardcore scene. The band currently features two former Indecision members with Justin and fellow guitarist Rachel Rosen, as well as former One King Down vocalist Rob Fusco. Having brought a new bassist, Matt Miller, into the fray for their most recent release allowed for a fuller sound on Our Lady of Annihilation. "We did more with two guitars on Our Lady because we are a 5 piece now; when we did Nothing in Vain it was just Rachel and I on bass and guitar, respectively." Our Lady also contains a contribution from another New York hardcore mainstay, Sick Of It All, as "It Runs In The Blood" features a collaboration with vocalist Lou Kohler. "We wrote most of Our Lady in Sick Of It All's rehearsal space actually. Lou came down with his girl to hang out when we were recording, and we were like 'hey, while you're here...' and he agreed to sing a few parts with Rob," said Justin. "We all grew up listening to Sick Of It All; they are one of the bands that I can honestly say got me into hardcore. So, becoming close friends with all of them was amazing, and having Lou sing on our record was just unreal."

When it came time to release Our Lady Of Annihilation, the band ran into a severe roadblock with the artwork they had chosen for the front cover. Their use of religious imagery became a cause for concern, as some feared that it might prevent them from selling the album in certain stores. "Obscenity, like beauty, is truly in the eye of the beholder. Some people saw the Virgin Mary with dynamite strapped to her womb and said 'bravo' -- others cried 'blasphemy.' We were met with a lot of resistance from Trustkill's distributor at the time; they were worried that no stores would buy the record. 'Stores' meaning places like Wal-Mart. We told them that if you go to Wal-Mart to buy MPB records, than you've got bigger problems than we could ever solve." In the end the band stuck to their refusal to change the artwork, but agreed to put a sticker over the bomb for the big chain stores. "It's just a sign of the times I guess. We've got World War 3 going on, but somehow our record cover is a controversy."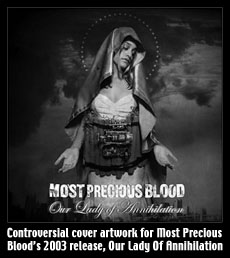 Most Precious Blood has never been afraid to take a controversial stance on religious issues. While labels like Solid State specialize specifically in Christian hardcore bands, Justin feels that organized religion is contrary to what hardcore should stand for. "Hardcore is supposed to be about individuality and free thought -- being open minded and thinking differently. Not marching to church on Sunday like zombies. What the fuck is different about being Christian or Catholic? 90% of the free world is Christian!" Justin adds, however, that he does not have a problem playing with other bands who do promote their religious beliefs. "We've played shows with Zao; they were cool to us. We didn't really talk about religion at all. If you're religious it doesn't mean I automatically hate you."

The members of Most Precious Blood do believe in promoting their stance on social issues, however. "If you aren't singing about anything, if you aren't standing for anything, if your songs have no meaning and you're just in this to get girls and sell records well, tragically, you're not a hardcore band," said Justin. "And that's fine, but don't parade around like you are because it's insulting for the rest of us." Having been involved with animal rights for years, the band has brought representatives from PETA to many of their live shows. "We're all vegan or vegetarian. We're all animal lovers. We were lucky enough to be exposed to animal rights through hardcore, and we're just trying to keep it out there so kids can take it or leave it," said Justin. "Kids need to know that there's more to hardcore than brutal mosh and merchandise. We've always said we want kids to leave an MPB show with more than just a new t-shirt!"

Most Precious Blood recently completed a tour with Rise Against, and is looking to head into the studio in the spring. Justin feels that the next album will be "heavier, more stripped down but also more bombastic," and claims that it will include everything from electronics to noise -- "you name it, the next MPB record will have it." But while he praises eclecticism, Justin is clear in his intention to stay true to the original meaning of hardcore. "We play this music because we need to; we're not out for cheap fame or scanning units. We were here before you could buy hardcore in a mall, and we'll be here when the shelves are empty too. That's our deal. We play it because we love it, and we live it because it's all we know."

RSJ thanks Matt Van DeVender for additional reporting and research for this article.