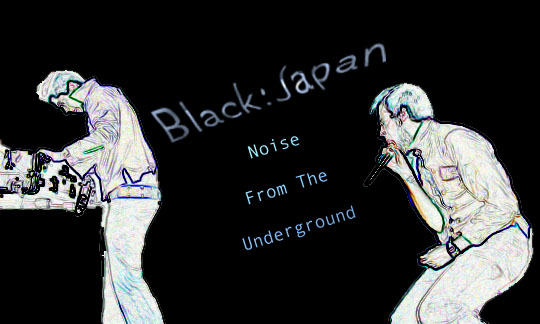 You probably don't know who Black:Japan is. Even if you consider yourself to be up on all things industrial-related, there's still a pretty good chance that you're unfamiliar with the work of Craig and Mike. This might be because, prior to a week ago, the band could claim a grand total of one performance outside of their hometown of Seattle, Washington. But all that changed when this self-described "noise" act was tapped to open seven dates for KMFDM's west coast tour. And if you think that seems like an unusually big break for a band that's been in existence a mere nine months, well, there's probably no one more surprised by their whirlwind success than the members of Black:Japan themselves.
"I think that we're well beyond where we ever thought we'd ever be with this. When we started the band we were wondering if we'd even be able to get one show, let alone go on tour with an awesome band like KMFDM," said Craig. "I remember getting our first, it wasn't even a review, it was just a listing of upcoming shows. And our name was in bold with the other band names and it was like, 'Oh wow, Mike, check it out we're in the paper!' Even that was just a huge deal for us."

Craig and Mike's venture into music actually began with a short-lived guitar-oriented band. However, this project was doomed from the start, as Craig states that, "neither of us can even play guitars." But despite this setback, inspiration would soon come in the form of experimental noise act Wolf Eyes, as seeing their performance would prove to be a turning point for both members of Black:Japan. "I saw them in a back alleyway in Olympia in some warehouse. We were very inspired by the noise they were getting out of the homemade electronics they had. They were just taking all these homemade pedals and just making insane noise," said Craig. Mike agrees, stating that his biggest influences have been "Wolf Eyes and free jazz music in general because of the freedom it allows to the performer."

After taking in this performance from a band that even Andrew W.K. immortalized in "Wolf Eyes Rules" the duo was motivated to pursue something a little more experimental than their previous work. Said Craig, "I guess you could say we just hung up the guitars and went straight into this other gig. We went and bought some cheap drum machines and started collecting pedals, which led us up to the equipment we have now."

The music they've been creating as of late has often been lumped into the industrial category, a tag that the members do not feel is entirely correct. "I think the only reason a lot of people label us as industrial is because the beats that we have are similar to early industrial sounds," said Mike. "But we're definitely not banging on trash cans and whatnot (laughs). So I definitely couldn't say we're Einsturzende Neubauten or anything like that, but I can see where people could draw comparisons to us. And it's not that we dislike the tag -- it's perfectly fine if it gets people to come to shows. I'm not really sure where we stand as to what genre we are anyway."

Also helping to get people out to see Black:Japan has been the support of On The Edge, a Sunday night radio program on Seattle's 89.5. The show's host found their music so interesting, in fact, that he risked getting grounded to catch one of their performances. "He was actually a kid that was like, 'I'm gonna sneak out of my house just to see you guys. I'm only 15, but I'll do it -- you guys are my new favorite band,'" said Craig. "So, that's been kind of cool. There's been some people that have attended our shows just strictly through hearing us on Paul's station."

Mike adds that, despite being known as more of a straight rock town, Seattle has actually offered them a very supportive underground scene in which to flourish. "We've kind of got ourselves into a network of kids who are really into sort of a DIY putting on shows and finding venues outside of mainstream clubs, art spaces and basements and things of that nature. So, there's a good underground movement as far as bands coming through town which might not necessarily get a show at a club but definitely have an audience."

It was Seattle resident (and KMFDM founder) Sascha K who got the band their biggest break, however. After getting hold of Black:Japan's debut, "Machines That Crush Bones," through Mike's girlfriend, who handled KMFDM's fanclub, Sascha invited the group to open for his band on a week-long west coast mini-tour. "It's our first gig outside of Seattle, said Craig. "We did one gig in Olympia, but this will be our first show outside of Washington, our first show in front of more than like 20 people. So it's gonna be insane, I think."

For now, Craig and Mike just hope some of this insanity will introduce more people to their work, which is probably best explained through being experienced. The duo is currently set for an August re-release of "Machines That Crush Bones," which they originally recorded just four months into beginning the band. "As it stands now we're looking to do about 1000 [cds]. And that will include some new tracks that we ended up writing after the album came out, which are probably going to be a bit gnarlier and more harsh than the original tracks on the album. We will also probably be including some live tracks as well," said Mike. "New material, bonus tracks, all that great stuff that kids love."

And though they are currently without any sort of major label distribution, it's something that they would certainly be interested in, should an offer come their way. "Not to say that we're commercially viable, but if you want to sell a ringtone of our music, that'd be cool with us (laughs). Craig needs new brakes for his Volvo."